About me
About me / About an operetta / About singing alive / Just thoughts
Some Words About Me ANGELIKA
ANGELIKA is a versatile singer whose work harmoniously combines great dance hits with lyrical soul touching songs. The artist, has managed to incorporate into her image a coquette and a dreamy little girl. She has also been a star of operettas and guest star of many european discos. Born in the Crimea (Russia), ANGELIKA has successfully performed with the belarussian state orchestra in Minsk, led by Mikhail Finberg, in Warsaw with Stanislav Fialkowski orchestra and other places such as: Frankfurt, Berlin, Salzburg, Moscow. Possessing a pure coloratura soprano, ANGELIKA is unique amongst european singers who interestingly combines classic vocal with trance, house and electro club music. Her dance versions of well known classic works produced originally by: Mozart, Kalman, Bach & Alyabev, can successfully, delight spectators of a concert hall and "blowup" the minds of dancers on the dance floor of a night club. The original of these tracks are constantly played on radios and televisions of many countries. ANGELIKA is also a vocal teacher and Singing Coach. Her vocal training school "ANGELIKA Voice Studio", located in Moscow, has for 7 years been giving lessons in vocal techniques to young and future artists and even some star artists.
About an operetta
I must say that have a nostalgic reminiscences upon the opera stage, which was my very beginning. I started with the Musical Comedy Theater in my native Crimea. As God has given me such an award (I mean a coloratura soprano), I cannot take the responsibility to kill or break it/ When I will become old I will be back to the operetta again, wearing long luxuriant low-cut dress, taking a fan. Then I will raise the larynx dome and again pour out my passion soul singing a Stassie in "Silva" or Lizonka in the "Maritsa" to my dear viewers of some operetta or musical comedy theater. Of course, this will happen only when I will be tired of clubs or stages absolutely, turning up girls and boys. But ... Do you want to know the truth? It seems to me ... I never get tired of it! And everything is good in its time.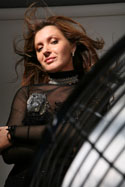 About singing alive
I can not refuse to sing alive with live orchestra, for example, Mikhail Finberg's Orchestra: I was a soloist here for 4 years. We often took part in various festivals with this band. Or Stanislaw Fialkovsky's Orchestra – I worked with it when I was in Poland. Singing at rehearsals and shows accompanied with violins, oboes etc. inspires so you want to merge with not only voice, but all my heart. Of course, the atmosphere in such conditions is rather different, more spiritual.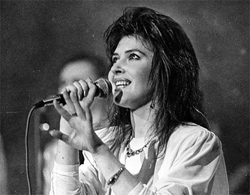 Just thoughts
I like (if I have enough time) to chat with girls coming up for autographs, when they try to confide their soul complain about undivided love or ask for an advice – how to live, how to love, whether it is worth to do something. I immediately come to mind some of my past love stories – sad stories. And I feel the wish to wipe these innocent tears any way, to instill a hope that everything will be good. After all, if there is true love, mental anguish and tears will bound there. That's what I 'm singing in almost every song of mine.